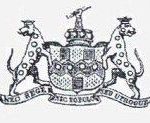 The Rolle Lodge is named after Exmouth's greatest benefactor, the Honourable Mark George Kerr Rolle, who gave his permission for his coat of arms to be used on the Lodge banner. The original banner being a generous gift in 1907 of Henry Peters a founder member.
The Lodge was born in May 1899 with fifteen founder members who came from all walks of life, but as you can imagine with a leaning towards Shipping with brokers and agents together with builders, butchers and a watch maker.
Our Centenary was celebrated at a meeting held on 29 November 1999 with R.W.Bro. Robin Osborn, Provincial Grand Master presenting the Lodge with the centenary warrant and jewel.
Today the Lodge meets 10 times a year the exceptions being the months of August and December. This allows members a break for the holiday periods! Rolle Lodge is the perfect place to either start your future in Freemasonry or continue as a joining member from Devon or another part of the country. We are a diverse group of men both in age and background with ages extending from the mid-twenties to the over eighty years young who enjoy friendship and camaraderie. We organise regular social functions to which family members are encouraged to attend.
At the heart of what we do is Charity. Our charity committee distributes hundreds of pounds every year to local charities or individuals including youth organisations, health services and good causes seeking support in times of adversity; all monies being raised by members of Rolle Lodge.
Great Ceremonies, Great Friendship and Great Dining!
What other reason do you need to visit or join, Rolle Lodge? Go on, drop the Secretary a line, don't be shy. Our door is always open, and a warm welcome awaits new and established members alike.