These news articles are archived and preserved because of their continuing value to show activities of our organisation.
Freemasons Help 25 Good Causes Across Devon – November 2017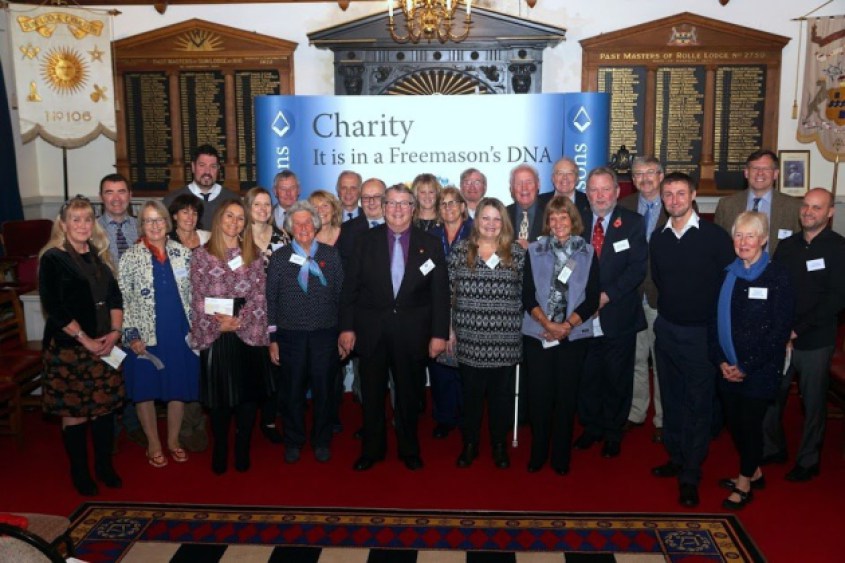 Exmouth and Lympstone Hospiscare were among 25 causes getting a donation from Masonic lodges across Devon.
The charity was chosen as one of the causes the Freemasons of Devonshire will support.
Twice a year the Devon Freemasons pick 25 causes to donate cash to from its 'Wake Fund'.

Cheques totalling £25,000 were presented to each of the 25 representatives in the name of the sponsoring Lodges.
All the organisations were presented with their cheques at a special evening held at the Exmouth Masonic Hall in St Andrew's Road by Provincial Grand Master for the Freemasons of Devonshire Ian Kingsbury.
Among those who given money were Friends of Exmouth Libraries (nominated by The Rolle Lodge No. 2759) and Exmouth and Lympstone Hospiscare (nominated by The Sun Lodge No. 106).
He said: "I am delighted that the Freemasons of Devon are able to continue to contribute to these important local causes many of which are totally run by volunteers and hopefully these donations will make a real difference to the lives of many people especially in this year when we are proud to be celebrating the Tercentenary of Freemasonry in England."
---
Freemason cash aids Exmouth Sea Cadets – August 2017
The cheque for £2,000 brings the total given to the cadets during the last few years to £4,250, and will help with the cadets' final payments towards the cost of their new headquarters.
Making the presentation, Reuben Ayres, Devonshire Freemasons Provincial Charity Steward, said: "I am delighted to present this cheque for £2,000 to the Exmouth Sea Cadets."
"Management committee chairman Tony Griffin and the team have worked tirelessly to raise the funds required to commission, build and equip this wonderful new facility in Exmouth."

"The Exmouth Sea Cadets are a very valuable resource for the young folk of Exmouth."

"The Devonshire Freemasons are delighted to support this very hard working and committed team."
Mr Griffin said: "The support from the Devonshire Freemasons has made a great difference to our funding deficit particularly at this late stage when our final bills have to be paid."
---
Freemasons help Exmouth library refurbish Childrens Area – April 2017
Young readers from Exmouth will be able to enjoy improved library facilities thanks to a donation from town Freemasons.
Sun Lodge, Rolle Lodge and Per Mare Per Terram Lodge have donated £750 between them to Friends of Exmouth Library.
This will pay for the library to refurbish its children's section.
Manager Chris Launder said: "Exmouth Library staff are extremely grateful to the lodges and indeed everyone in the community who has contributed to the Friends of Exmouth Library fundraising.
"The children's library is very well used but the furniture is looking tired. A refurbishment will be a real boost both to staff and families using the library.
"We welcome feedback from the public on what they would like to have in the children's library and look forward to unveiling the new additions very soon."
Friends of Exmouth Library was formed just over a year ago when Devon Libraries separated from Devon County Council.
It has so far raised more than £1,000 to support projects including a weekend Lego club, a summer reading challenge, and a computer coding club.
---
Exmouth Freemasons help Exmouth Scouts – April 2017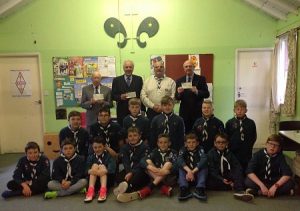 Exmouth Freemasons, Sun Lodge No 106, Rolle Lodge No 2759 and Per Mare Per Terram Lodge No 9355 have donated £750 to the 7th Exmouth Scouts.
These donations will support the fundraising for the scouts to go to De Kluis in Belgium to pay their respects to the fallen soldiers in Tycot Cemetery and in conjunction with this trip they have been invited to attend a last post ceremony at the Menin Gate. Pictured making the presentation to Ian Edgecumbe 7th Exmouth Scout Leader are (left to right) W. Bro George Tumbridge – WM of Per Mare Per Terram Lodge, W. Bro Nigel Bradford – Rolle Lodge Charity Steward and Bro. David Bassett – Sun Lodge Charity Steward.
---