These news articles are archived and preserved because of their continuing value to show activities of our organisation.
Freemasons help Exmouth library refurbish Childrens Area – April 2017
Young readers from Exmouth will be able to enjoy improved library facilities thanks to a donation from town Freemasons.
Sun Lodge, Rolle Lodge and Per Mare Per Terram Lodge have donated £750 between them to Friends of Exmouth Library.
This will pay for the library to refurbish its children's section.
Manager Chris Launder said: "Exmouth Library staff are extremely grateful to the lodges and indeed everyone in the community who has contributed to the Friends of Exmouth Library fundraising.
"The children's library is very well used but the furniture is looking tired. A refurbishment will be a real boost both to staff and families using the library.
"We welcome feedback from the public on what they would like to have in the children's library and look forward to unveiling the new additions very soon."
Friends of Exmouth Library was formed just over a year ago when Devon Libraries separated from Devon County Council.
It has so far raised more than £1,000 to support projects including a weekend Lego club, a summer reading challenge, and a computer coding club.
---
Exmouth Freemasons help Exmouth Scouts – April 2017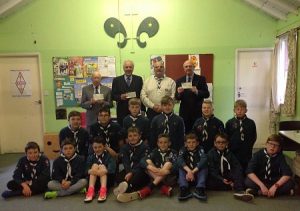 Exmouth Freemasons, Sun Lodge No 106, Rolle Lodge No 2759 and Per Mare Per Terram Lodge No 9355 have donated £750 to the 7th Exmouth Scouts.
These donations will support the fundraising for the scouts to go to De Kluis in Belgium to pay their respects to the fallen soldiers in Tycot Cemetery and in conjunction with this trip they have been invited to attend a last post ceremony at the Menin Gate. Pictured making the presentation to Ian Edgecumbe 7th Exmouth Scout Leader are (left to right) W. Bro George Tumbridge – WM of Per Mare Per Terram Lodge, W. Bro Nigel Bradford – Rolle Lodge Charity Steward and Bro. David Bassett – Sun Lodge Charity Steward.
---