Kindness has always been a core principle of Freemasonry. Individuals give time and money to help others, whether locally, nationally or globally. It may be making donations to other UK charities or responding to an international disaster appeal.

Nationally Freemasons are one of the UK's top charities raising over £33 million a year and one of its main grant-giving bodies.
The Exmouth Journal's Joseph Bulmer given special access to the town's Masonic Hall by Devon's top freemason – September 2018
Exmouth Journal reporter Joseph Bulmer was given a guided tour of the building by the county's Provincial Grand Master Ian Kingsbury.
The Masonic Hall on St. Andrews Road was opened in 1894, first used by The Sun Lodge who where established in 1759, and regularly sees gatherings of up to 140 people, with an estimated 2,000 people using or visiting the building each year.
See full article in the Exmouth Journal.
Ian explained the appeal of becoming a Freemason, he said:
"I think men, especially younger men, see us as an upstanding organisation that enjoys doing good work.

We like to show people that they can lead a good life, personally, in business and in society at large, plus we have a lot of fun raising money for charity.

The ceremonies and rituals we perform have not changed for 300 years, in this changing world freemasonry is a reliable constant."
Exmouth Freemason David Richards, 65, joined the lodge in 2003 after being invited to by another member. He said: "For me it's the camaraderie, you make masses of new friends and when you visit other lodges across the country you are always given a warm welcome."
Several Masonic lodges use Exmouth's Masonic Hall, including the Per Mare Per Terram Lodge No. 9355 for Royal Marines.
Video: Tour of Exmouth Masonic Hall
Charity work is central to Freemasonry and the Exmouth's members have raised more than £8,000 in the last year, contributed to the town's library, provided a wheelchair to a young girl suffering form cerebral palsy and donated £3,000 to Exmouth Hospital for a patient hoist.
The new Deaf Academy also received £7,500 in funding from Devon's Freemasons.
---
Exmouth Freemasons Donation to the Friends of Exmouth Library – August 2018
Exmouth Freemasons continue to support their local community with a further donation of £1500 to the Friends of Exmouth Library.
Before the presentation at the Library, Lodge representatives were given a tour of the recently refurbished children's section which was partly funded by donations from the Provincial WAKE Fund and the Freemasons of Exmouth to the Friends of Exmouth Library, whose Chairman is W. Bro Bob Bryant of Sun Lodge No 106.
This latest donation will help fund the next phase of work to transform a room into a community space for use by local community groups.
Beatrice Coveney – Exmouth Library Senior Library Supervisor commented:
"Exmouth Library would like to thank the Freemason Lodges of Exmouth for their generous contribution to the Friends of Exmouth Library. The Friends of Exmouth Library support Exmouth library and will invest the money in transforming a room into a welcoming community space to meet, socialise, learn, read and enjoy new experiences while supporting the health and wellbeing of individuals and local communities. We plan to create a dedicated meeting room with refreshment facilities and an informal area for young people for the Autumn 2018."
---
Exmouth Festival – Provincial Membership Team – May 2018
During the 2018 Exmouth Festival held at the Recreation Ground, the Provincial Membership Team was present with its splendid new stand (pictured), for 3 days inclusive, from Saturday 26th May until Monday 28th May.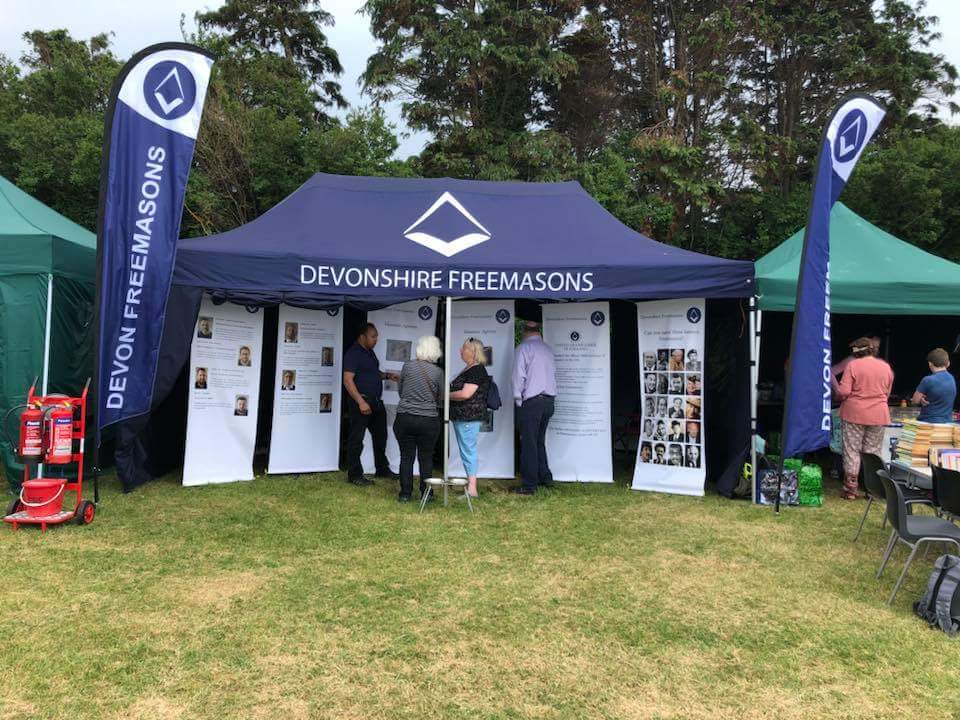 The event followed several already attended by the Provincial Team during the 2018 show season.
So far this year the Team have spoken to 417 people promoting Freemasonry, (although this number will go up when the number is received from the History festival event in Plymouth).
Many interesting question where asked about Freemasonry.
The Team was able to speak openly and honestly to give both informed and useful answers.
As well as communicate the values, attractions and contributions of Freemasonry.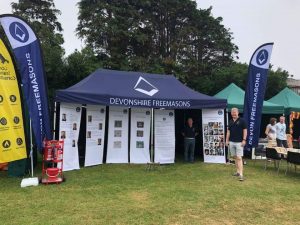 Some visitors to the Festival, came to the stand, just to say hello as they had family connections to Freemasonry, or where Freemasons on holiday in the area.
Overall the Team received a number of approaches for information on joining Freemasonry from Plymouth, Exmouth, East Devon and Dawlish.
These potential candidates will now start the 12 months process of joining (should they be suitable and finally agree to make the commitment needed).
The Plymouth Team were W.Bro's Cotter and Hornibrook and Bro. Herd.
The Exmouth Team were W.Bro's Taylor, Sidwell, Oliver, Lewis and Bro. Chundee. They were supported by W.Bro. Robshaw, Sun Lodge and W.Bro. Jim Orridge, The Lodge of Harmony.
The Provincial Team will now move forward to attending:
Plymouth (The Hoe) and Exmouth Armed Forces Day (The Strand) (Saturday 30th June 2018)
Powderham Castle classic car show (Sat. 7th Jul – Sun. 8th Jul 2018)
Babbacombe Model Village 2023 festival event (Sat. 7th Jul – Sun. 8th Jul 2018)
Mid Devon Show (Saturday 28th July 2018)
Totnes Show (Sunday 29th July 2018)
Honiton Show (Thursday 2nd August 2018)
So if you happen to be at any of these other events, pop in and speak to the Team.
---
Bro. Kenneth Parsons' 50th anniversary – April 2018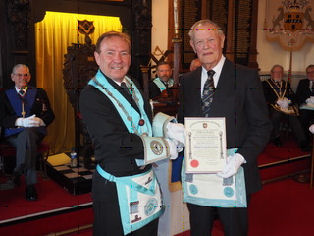 Bro. Kenneth Parsons of The Rolle Lodge No. 2759 and previously of The Lodge of Sincerity No. 189 recently celebrated his 50 years in Freemasonry. Worshipful Master W.Bro. Peter O'Connor presented the certificate after a citation was read by the Lodge Secretary, W.Bro. Steven Sugden in which he mentioned… Ken is a good example of the backbone of what Freemasonry is about. It is not necessary to pursue rank and fortune but to be a sound, loyal and a faithful Master Mason being an asset to the foundations of the fraternity…
---
Cheque presentation to Exmouth Memory Cafe – April 2018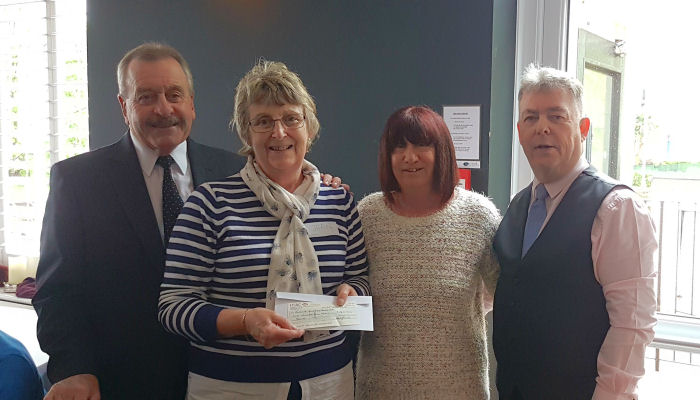 Worshipful Master Ian Matthews his wife Debbie, and W.Bro. Tony Howe as Treasurer of the Sun Lodge Ladies Night committee presented a cheque for £140 to Jean Honey a founder of Exmouth Memory Cafe.
The Memory Cafe in Exmouth is open to anyone worried about their memory, worried about someone else's memory or affected by dementia.
Proceeds were raised from the Draw held at the Sun Lodge No. 106 Ladies Night, held at the Royal Beacon Hotel on 24th March 2018.
Left to right, Tony Howe, Jean Honey, Debbie Matthews, Ian Matthews.
---
Holman family visit – April 2018
Sun Lodge No. 106 at their regular meeting, welcomed the Worshipful Master, Worshipful Brother John Holman, and the Brethren of the Tennyson Lodge No. 4947 which meets in Clevedon in the Province of Somerset.
The association between Sun Lodge and the Holman family commenced on the 8th September 1952 when Mr Albert Edward Holman (Grandfather of Worshipful Brother John), a retired police officer aged 54 years residing at 16 Seymour Road Exmouth was initiated into Sun Lodge having been proposed by Worshipful Brother W.H. Kennard and seconded by Worshipful Brother J.H. Gorfin.
The association was further enhanced:
On the 11th April 1960 when Mr Edward William Holman (Father of Worshipful Brother John) a post office engineer residing at 57 Roseway Littleham Exmouth was initiated into Sun Lodge having been proposed by his father Brother A.E. Holman and seconded by Worshipful Brother J.H. Gorfin.
On the 8th March 1965 when Mr John Albert Holman (Uncle of Worshipful Brother John) a police constable aged 33 years residing at 45 Roseland Avenue Heavitree Exeter was initiated into Sun Lodge having been proposed by his father Brother A.E. Holman and seconded by Worshipful Brother J.H. Gorfin.
Worshipful Brother Ted (Father of Worshipful Brother John) was installed as Worshipful Master of Sun Lodge on 10th January 1972.
The minutes of that meeting state:
The Lodge was opened in the 2nd Degree and Brother E.W. Holman, Master Elect, was presented by his father, Brother A.E. Holman. Later in the ceremony Brother Albert presented the 2nd Degree Working Tools to his son Worshipful Brother Ted.
Worshipful Brother John has visited Sun Lodge on previous occasions with his uncle Brother Jack but on Monday 9th April 2018,  Sun Lodge welcomed him again, but this time as Worshipful Master and congratulated him on attaining the Chair of Tennyson Lodge No. 4947.
---
Charity presentation to Exmouth Hospital – February 2018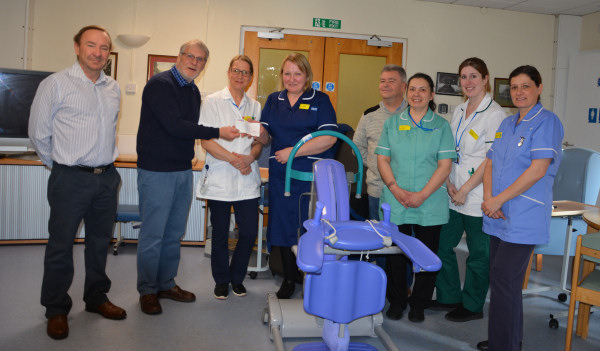 A cheque for £3,000 from the Exmouth Freemasons was presented to the Exmouth Hospital on Tuesday 13th February 2018 to purchase a mobile patient hoist.
The Worshipful Masters of the Per Mare Per Terram Lodge 9355 (T Devin), Sun Lodge 106 (Ian Matthews) & The Rolle Lodge 2759 (Peter O'Connor) were present.
The amount was raised from small change placed in the "Hospital Box" which is passed around at festive boards at all the Freemasons lodges in Exmouth over the past 5 years.
---
Freemasons provide Assistance for New Wheelchair – December 2017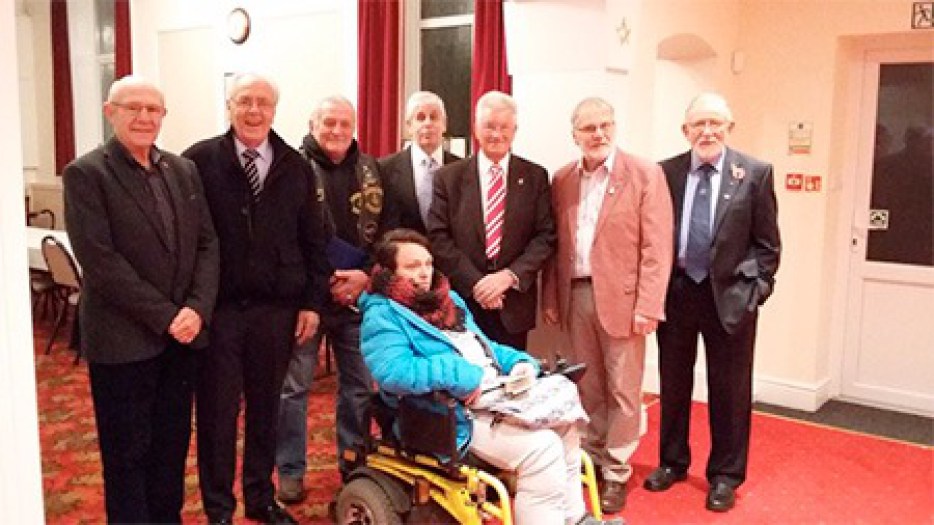 Andrea is a resident of Exmouth who lives with cerebral palsy. Her mobility is extremely limited and she depends completely on an electric wheelchair. She has two, neither of which are fit for purpose, and the engineer who looks after them has told her that they are both beyond any meaningful repair and a replacement is the only option. He has recommended an American chair, purpose built for her needs. It is, however, very expensive, but as she suffers from other debilitating conditions this is the one recommended for her very specialised needs – not just a luxury item. Andrea can't afford that so a charity appeal was launched to try and raise the funds.
The Freemasons of Exmouth and Budleigh Salterton, both in the Craft and the Royal Arch have come together and made a huge contribution towards the chair. It started with £100 from the Widows Sons SW Motorcycle Association and rapidly grew with donations from the following Lodges and Chapters.
Sun Lodge 106 – £250
Rolle Lodge 2759 – £500
Per Mare Per Terram 9355 – £250
Lodge of Harmony 372 – £250
Chapter of Harmony 372 – £250
This was followed by a very generous donation of £1,500 by the Provincial Grand Superintendent, E Comp Simon Rowe. Other Masons have made personal donations to raise a total of £3,300 for this worthy cause.
Andrea is now well on the way to the total needed. The Freemasons of Exmouth and Budleigh Salterton have demonstrated once again that charity is one of the leading lights of Freemasonry in helping this lady to become mobile again. Andrea was invited to the Exmouth Lodge building on Friday 10 November to receive the cheques.
Andrea sends her sincere thanks to all the Lodges and Chapters and all others who have contributed. She has promised to visit us and show us the new chair when it arrives. We all wish her the best of luck.
---
Freemasons help Exmouth library refurbish Childrens Area – December 2017
Exmouth Library, in Exeter Road, celebrated improvements to its childrens' area by holding a Gruffalo party for youngsters and their parents.
A Gruffalo party held at Exmouth Library to celebrate the refurbishment of the children's area has been hailed a success.
After a fundraising effort by Friends of Exmouth Library and a donation from the Exmouth Freemasons, the library was able to make some improvements to the area dedicated to Exmouth's younger generation.
The refurbishment of the children's area is the first phase of improvements planned for the library.
There is a now a big sofa, a new rug, seats and shelving units for more books.
---
Sun Lodge No. 106 Masonic Charities Association – December 2017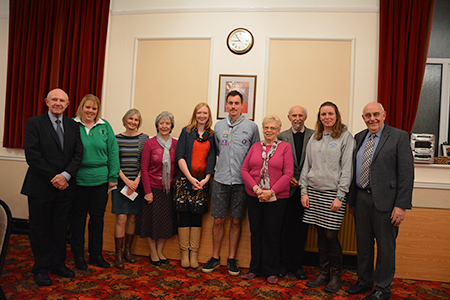 Sun Lodge No 106 Masonic Charities Association recently held its presentation evening for Non Masonic Charities and Organisations. The presentation evening which is in its twelfth year saw £2,200 presented to nine organisations.
The evening opened with welcomes from Bro. David Bassett the Treasurer of the Charity Association and Lodge Charity Steward and W. Bro David Greenaway the Chairman of the Charity Association.
The first recipients of the evening were Centre Stage Exmouth who entertained representatives of the organisations and Brethren of Sun Lodge with a fantastic performance of four songs. This was followed by a very enjoyable buffet supper.
The other recipients who received donations were:
Courtney Memory Café
Exmouth Beach Rescue Club
Exmouth Gateway Club
Exmouth in Bloom
Exmouth Museum
Balloons
5th Exmouth Sea Scouts
Open Door Exmouth
---
Exmouth Remembrance wreaths laid by former servicemen – November 2017
The Royal Marines and the Royal Navy were already well established when Freemasonry was born, and over the past three centuries have provided fellowship and a watering hole for countless sailors and marines all around the Globe.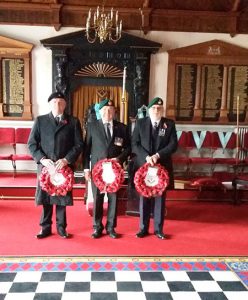 All three of the Lodges in Exmouth are blessed with former Royal Marines as members, with the majority of those being Members of Per Mare Per Terram Lodge. Within Per Mare Per Terram there are several Members still serving in the Royal Marines, and indeed our next ceremony in December will see a further addition as the candidate is a serving Warrant Officer.
With the three Exmouth Lodges all having former Royal Marines as members, it creates a bond between these Lodges and goes some to explaining why an evening spent at any of the three is such a pleasant experience as the banter can only be described as witty and constant if totally harmless.
At the Remembrance Day parade on Sunday 12th November the three Freemason's Lodges in Exmouth were represented by their Worshipful Masters for the wreath laying ceremony.
The wreath donated by Sun Lodge No.106 was laid by W. Bro Simon Skinner formerly a Leading Seaman in the Royal Navy.
The wreath for the Rolle Lodge No.2759 was laid by W. Bro Peter O'Connor, formerly a Warrant Officer 1 (Helicopter Pilot) Royal Marines.
And the wreath for the Per Mare Per Terram Lodge No.9355 was laid by W. Bro Tom Devin, formerly a Warrant Officer 2 (Platoon Weapons Instructor) Royal Marines.
---
Freemasons Help 25 Good Causes Across Devon – November 2017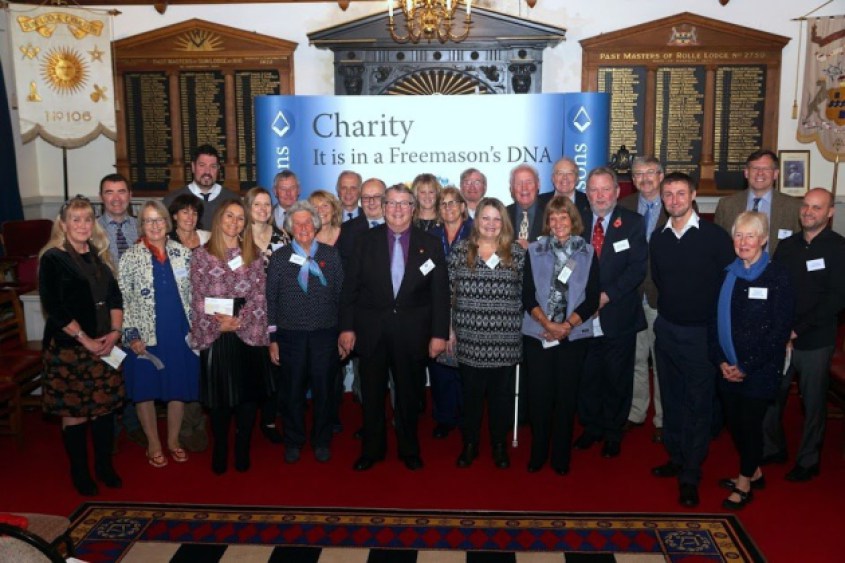 Exmouth and Lympstone Hospiscare were among 25 causes getting a donation from Masonic lodges across Devon.
The charity was chosen as one of the causes the Freemasons of Devonshire will support.
Twice a year the Devon Freemasons pick 25 causes to donate cash to from its 'Wake Fund'.

Cheques totalling £25,000 were presented to each of the 25 representatives in the name of the sponsoring Lodges.
All the organisations were presented with their cheques at a special evening held at the Exmouth Masonic Hall in St Andrew's Road by Provincial Grand Master for the Freemasons of Devonshire Ian Kingsbury.
Among those who given money were Friends of Exmouth Libraries (nominated by The Rolle Lodge No. 2759) and Exmouth and Lympstone Hospiscare (nominated by The Sun Lodge No. 106).
He said: "I am delighted that the Freemasons of Devon are able to continue to contribute to these important local causes many of which are totally run by volunteers and hopefully these donations will make a real difference to the lives of many people especially in this year when we are proud to be celebrating the Tercentenary of Freemasonry in England."
---
Freemason cash aids Exmouth Sea Cadets – August 2017
The cheque for £2,000 brings the total given to the cadets during the last few years to £4,250, and will help with the cadets' final payments towards the cost of their new headquarters.
Making the presentation, Reuben Ayres, Devonshire Freemasons Provincial Charity Steward, said: "I am delighted to present this cheque for £2,000 to the Exmouth Sea Cadets."
"Management committee chairman Tony Griffin and the team have worked tirelessly to raise the funds required to commission, build and equip this wonderful new facility in Exmouth."

"The Exmouth Sea Cadets are a very valuable resource for the young folk of Exmouth."

"The Devonshire Freemasons are delighted to support this very hard working and committed team."
Mr Griffin said: "The support from the Devonshire Freemasons has made a great difference to our funding deficit particularly at this late stage when our final bills have to be paid."
---